About
Rooter Repair, Water Leak and Leak Detection in Agoura Hills
Your first Choice for Plumbing Repair Services, Water Leak, and Rooter Repair in Agoura Hills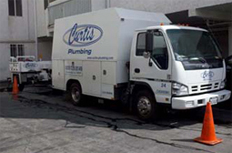 Agoura Hills Plumbing takes great pride in offering a diverse array of plumbing repair services like rooter repair plumbing, water leak repair, leak detection and emergency plumbing. We are on call 24 hours for any emergencies.  Our superior services encompass all the plumbing repair needs in and around your home such as the bathroom, kitchen, water heaters and sewers.  We also provide these same plumbing repair services for local businesses.  Agoura Hills Plumbing, a full service plumber, has the technology and experience to clear any clog, fix any broken pipe and install sewer rooter repair clean-outs in a timely manner. Our plumbers use the most technologically advanced and cost manageable technologies for rooter repair in Agoura Hills.

If you experience any problem with a water leak in Agoura Hills, do not hesitate to call us for a free quote.  Our plumber has access to the most advanced technologies when it comes to leak detection in Agoura Hills. It is vital that the correct source of the water leak is detected. An incorrect assessment can account for much unnecessary work and costs. Furthermore, many leaks can go undetected for a long period of time. We have professional equipment and expertise to ensure that the water leak is resolved without further problems in the future. We specialize in electronic leak detection and have many service experts who have fixed hundreds of slab leaks. If you have water leak in Agoura Hills than Agoura Hills Plumbing is a sound investment to help you preserve your property without any further damages.

We serve commercial, residential and industrial customers. If you are located by the Agoura Hills area and are in need of plumbing services don't hesitate to call 800-729-8149. We address any water leaks, plumbing concerns or rooter repair in Agoura Hills in a timely manner guaranteed.